Come, see real
flowers
of this painful world.
Basho (1644-1694)
What does it mean to feel a sense of belonging, to be embodied and present in a specific place? Or to feel out of place, displaced, unconnected to ourselves and others? Can the woodlands, mountains, streams, rivers, seas, deserts, grasslands, towns, and cities of our childhood influence our sense of self and continue to resonate within us as adults? How important is nature when so many of us by necessity or choice live in cities? Does having a connection to the place we live really matter?
As an artist and writer who lived for twenty-one years in America, twenty-five years in England, twenty-five years in Australia, and now once again in England, I asked myself these questions as I observed my artwork radically change with conscious intent and unconsciously in relation to the places I have lived. Despite having been fortunate to live in places of great natural beauty, too often I witnessed the emotional repercussions of displacement and trans-generational trauma manifest in the gestures, colours, and content of my paintings, and felt a sense of loss rather than a sense of place.
My paintings, sculptures, photography, poetry, and essays reflect the power of place, displacement, and nature. In my writing, I reflect upon my art practice, my life and journeys across countries and cultures, and my work with Australian Aboriginal women artists at Utopia. My writing has been published in books and international journals, and my artwork has been chosen for nine book covers. I have shown my work in over fifty-five art exhibitions, including fourteen solo exhibitions. A curated, 25-year solo retrospective in 2005 was shown in two venues in Australia, and a 40-year solo retrospective of my artwork was held in England between November 2021 and March 2022.
Giovanni Aloi, editor of Antennae: The Journal of Nature in Visual Culture, interviewed me about Aboriginal art and culture for the spring 2023 edition. A PDF of the beautifully illustrated issue can be freely downloaded at:
Floating World, 50 x 50 cm, oil on canvas.
Poem by Matsuo Basho (1644 - 1694) published in On Love and Barley: Haiku of Basho, © Penguin Classics, 1985.
For more information about the size or price of the artworks on this website, please email: vkblackstone@gmail.com
© Artwork and text copyright Dr. Victoria King 2023.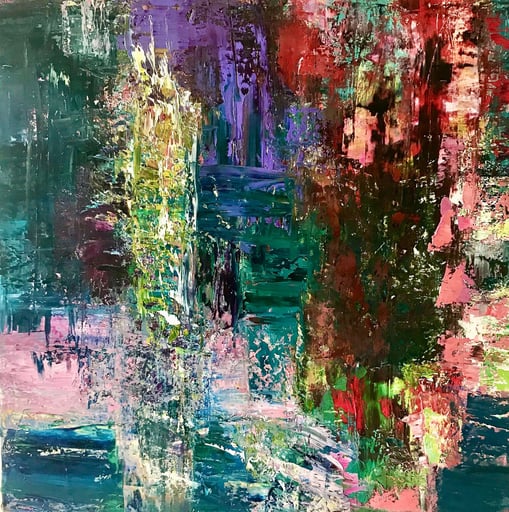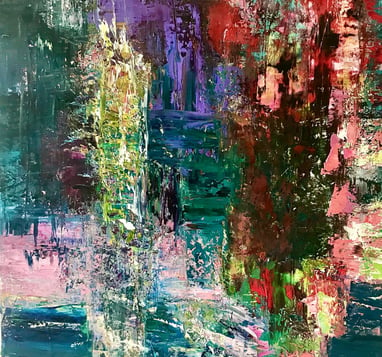 A new series of Kingfisher garden photographs taken in June 2023 has been uploaded under the Photography icon.